Fish Fib was created by two cousins named Adam and Andy.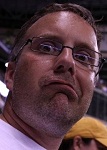 This is Andy, he still has all of his hair, though it is starting to go grey on the sides. Andy grew up in Green Bay WI. I should say Andy got older in Green Bay, as he still has not grown up. He currently resides in Oshkosh WI where he pretends to work. I don't think anyone has actually seen him work, but he claims that he does. Andy came up with the original idea for the Tall Tale Tape Measure. This idea was the first Andy has had that we thought was actually worth pursuing.
You can email Andy directly at Andy@FishFib.com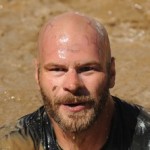 This is Adam, he has lost most of his hair. Adam grew up in Watertown WI, and moved to Green Bay upon graduation of high school. Adam designed the first prototypes of the Tall Tale Tape Measure, and sees to the day to day operations of Fish Fib.
You can email Adam directly at Adam@FishFib.com
Fish Fib is currently headquartered in Green Bay Wisconsin (Go Packers!!). You can provide feedback, ask questions, or even see if we want to take your Packer Tickets off your hands with the contact info below.
Official Contact Information:Email: info@fishfib.com
Phone: 920-349-7448
Address: Fish Fib LLC
1535 Crystal Lake Cir #4
Green Bay WI 54311
{As much as we'd love to see you, there is no retail store front at our headquarters, please order online, You can send us mail or gifts at this address though.}